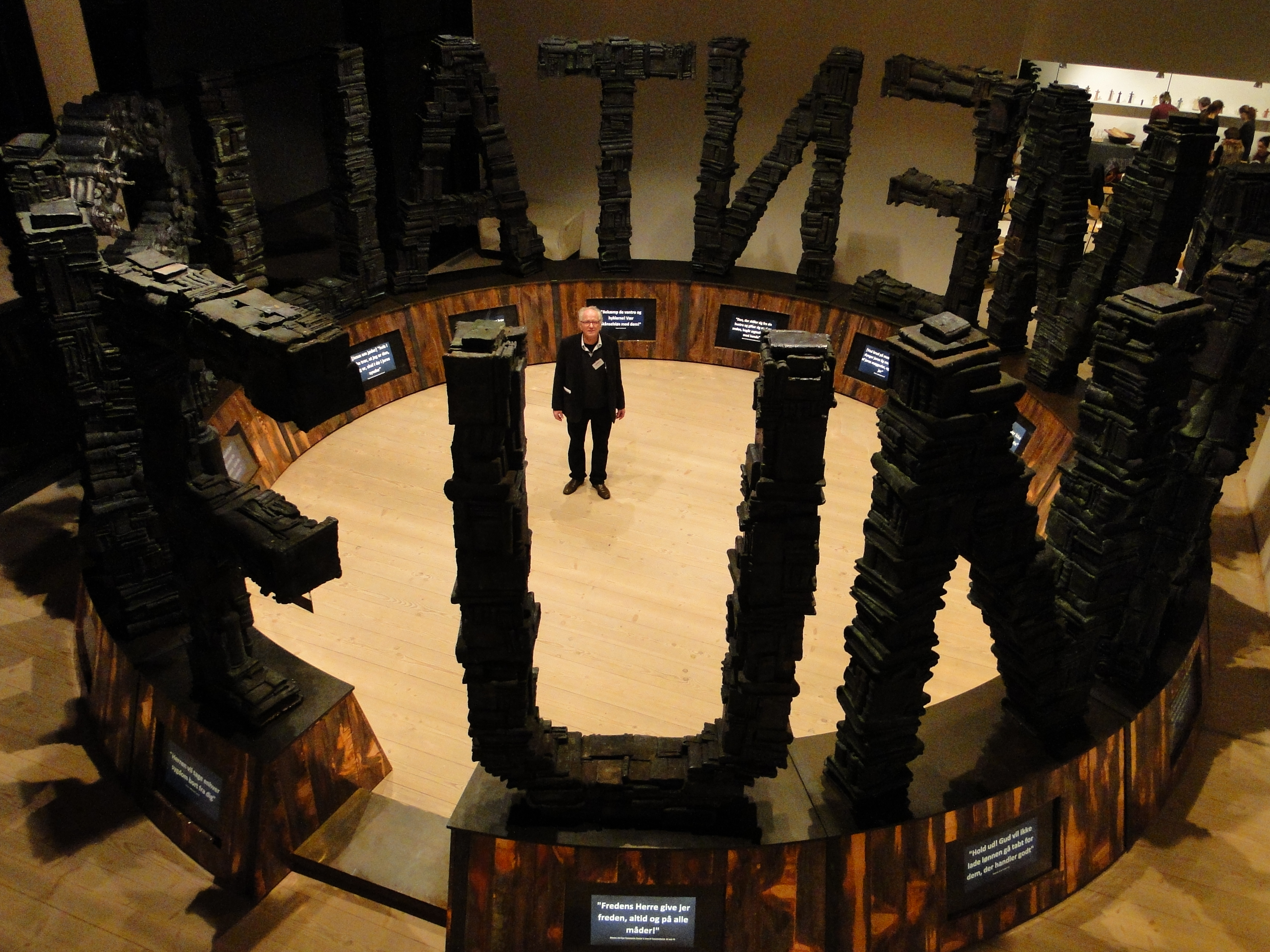 Presentation of The Children of Abraham
Jens Galschiøt's art and dialogue project highlights the three monotheistic religions, Judaism, Christianity, and Islam.
The art project consists of 4 elements:
The Fundamentalism sculpture – a monumental art installation in the form of a sculpture which stages the monotheistic religions' dogmas in 3,5 m. tall letters of copper and steel.
600 of the darkest and brightest quotes – from The Torah, The Bible and The Quran – are shown on the Fundamentalism sculpture's 28 monitors, and are used in the quotation-quiz etc.
The Pillars of Scriptures – a number of copper sculptures, exhibited separately to compel citizens to join the dialogue.
The dialogue project – the Secretariat for The Children of Abraham mediates the project and spearheads the dialogue with numerous initiatives.
Exhibitions
Concept and documents
PDF: Concept – The Children of Abrahams – w. 600 quotes from Torah, Bible and Quran.
Statement about "The Children of Abraham" from Iben From – Silkeborg Bad
Quotes
Photos
Other
The Children of Abraham on Wikipedia
The film about The Children of Abraham
Program from the exhibition in Varde
Articles from the press about the exhibition in Varde
Danish:
10.08.2016 – Politiken: "Et øjeblik: Kunstner viser lyset og mørket i 600 citater fra Bibelen, Toraen og Koranen"
09.08.2016 – Ugeavisen Varde: "Kæmpe kobber-kunstværk skal stå på Torvet i Varde"
09.08.2016 – Lokalavisen: "14 ton skulptur på torvet skal sætte fokus på religionsforståelse"
09.08.2016 – Lokalavisen: "14 ton kulturforståelse på Torvet"
08.08.2016 – Jydskevestkysten: "På lørdag åbner efterårets store kunstprojekt i Varde"
08.08.2016 – Jydskevestkysten: "Det kan du opleve i efterårets kunstprojekt"
21.07.2016 – Fyens stiftstidende: "Fundamentalism sendes til Varde"
19.07.2016 – Lokalavisen Varde: "Sommerhits i Varde"
15.07.2016 – Jydskevestkysten: "Skulpturernes stærke tavse ord"
08.07.2016 – Jydskevestkysten: "Kom og se spændende skulpturer"
28.06.2016 – Ugeavisen Varde: "Udstilling med eftertanker"
28.06.2016 – Lokalavisen: "Fernisering på Galschiøt"
25.06.2016 – Jydskevestkysten: "Kunsten at frygte forråelse"
24.06.2016 – Nyt om Sydjylland: "Kuldegysninger: Mød Galschiøt og hans kunstværk i dag klokken 16"