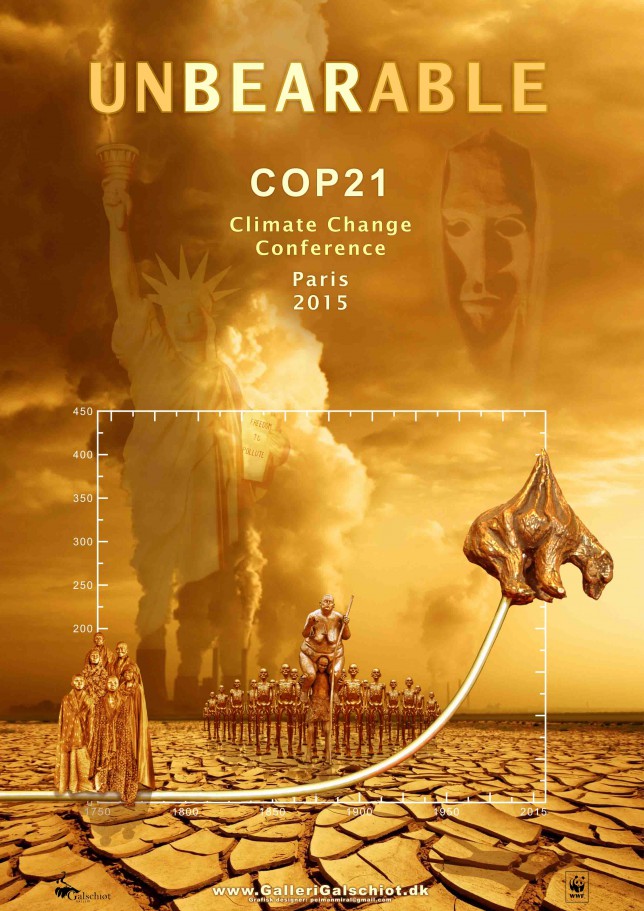 Artist Jens Galschiot exhibit a number of art installations around Paris during COP21, which highlight the climate crisis from different angles.
WWF supports the project with the aim of engaging the public and sending a joint, unmistakable message to the world leaders that now is the time for action, not procrastination.
ALL NEWS ARTICLES FROM GALSCHIØTS IN PARIS
Invitation to opening of the exhibition
Unbearable Reception in Paris – event
COP21 in Paris 2015 – Official homepage
Art installations in Paris
Contact and information:
Unbearable and Jens Galschiøt
Lasse Markus, Cand Soc. Ms Management of Creative Business Processes.
Manager of International Exhibitions
E-mail:
aidoh@aidoh.dk
, Phone (Paris) +45 6170 3083 / +45 4044 7058, Phone (Denmark) +45 6618 4058
Cité Internationale Universitaire
– Contact presse: Ozlem Yildirim | ph.+33 01 4416 6554 / +33 06 1958 6049 | presse@ciup.fr /
ozlem.yildirim@ciup.fr