Denne begivenhed er allerede afholdt.
Refugee ship visit 23 German Habours
28. juli 2017

-

1. oktober 2017
Begivenhed Navigation
Refugee ship visit German Harbours with OUTLAW.die Stiftung.
22 German Harbours are visited by the refugee ship with information campaigns, music and events. The German organisation Outlaw.die Stiftung is behind the extensive Campaign.
Schedule:
28.07. - 01.08. Bremen
03.08. - 07.08. Norderney
07.08. - 10.08. Borkum
10.08. - 14.08. Emden
14.08. - 16.08. Weener
16.08. - 21.08. Papenburg
21.08. - 22.08. Lingen
22.08. - 25.08. Münster
25.08. - 26.08. Gelsenkirchen
26.08. - 28.08. Duisburg
28.08. - 30.08. Oberhausen
30.08. - 01.09. Hamm
01.09. - 02.09. Fuestrup
02.09. - 04.09. Osnabrück
05.09. - 08.09. Celle
08.09. - 11.09. Hannover
11.09. - 12.09. Wolfsburg
12.09. - 14.09. Magdeburg
15.09. - 18.09. Halle
18.09. - 22.09. Dresden
22.09. - 24.09. Potsdam
25.09. - 27.09. Neuruppin
28.09. - 01.10. Berlin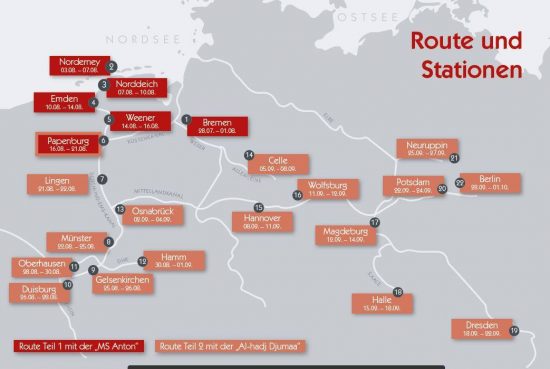 Contact:
OUTLAW. die Stiftung
Feidikstr. 27
59065 Hamm
Tel. 02381 / 9870032
info(at)outlaw-diestiftung.de