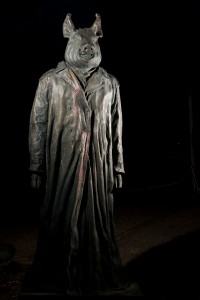 The mounting of one-ton heavy black concrete sculptures in famous places across twenty cities in Europe. The sculptures depict a pig in human clothing. The project has been called the biggest art happening in Europe. The purpose was, in an nontraditional way, to focus on the increasing violence, intolerance, racism and persecution against minorities that Europe is witnessing in recent years.
In November 1993, the twenty sculptures were installed in a span of 55 hours without the knowledge of the authorities. The sculptures created commotion and spurred debate in the press, and inside circles both public and political. In several locations the sculptures have found a permanent place as a gift to each city. More than 100 volunteers contributed to the happening.
Photos
Documents
Links
My inner beast on Wikipedia
Click here to see more about the project.